A gentle introduction to
Fokker periodicity blocks: part 2
[from Monzo: This exposition provides information useful for understanding my concept of finity.]
Last time we saw how choosing a single "unison vector", or interval too small to warrant a distinction in pitch, reduces the infinite resources of 3-limit just intonation (or Pythagorean tuning) to a finite scale. The number of pitches in this scale turned out to be the number of fifths in the chain between the two notes defining the unison vector. Our examples were:
a pentatonic scale, defined by a unison vector of 5 fifths, a "Pythagorean limma" of 90 cents; and
a 12-tone scale, defined by a unison vector of 12 fifths, a "Pythagorean comma" of 23 cents.
Now let's consider 5-limit just intonation. It can be considered an infinite succession of 3-limit JI systems, separated by just major thirds (5:4 ratio). Let us put our familiar 3-limit system in the middle, and stack its transpositions by a 5:4 up, upwards, and by a 5:4 down, downwards: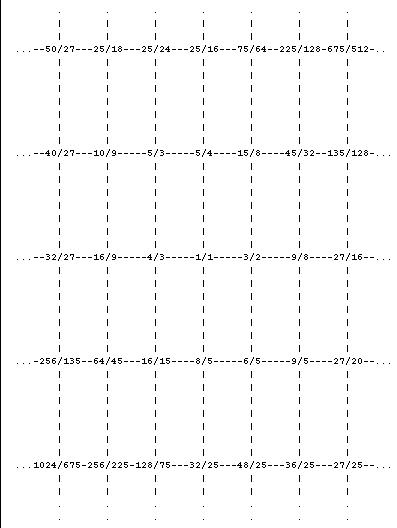 We could have used 5:3 instead of 5:4, but this way is a bit easier to remember: gaining a factor of 3 means moving one place to the right, and gaining a factor of 5 means moving one place upwards.